If you are thinking about working in the medical field, one possible way to start is to consider becoming a Patient Care Assistant or Aide (PCA). These persons play a valuable role in nursing homes and even in private homes with persons needing care.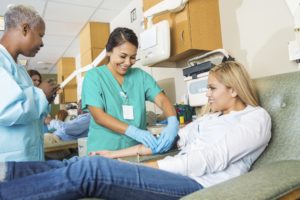 They help people with mobility issues, the elderly or other persons who have special needs to have improved quality of life.  It is also important not to confuse a patient care aide with a patient care technician (PCT). PCTs have more training than PCAs and are more likely to be employed in a medical facility than a private home.
What is a PCA?
PCA (or Patient Care Assistants/Aides) work with patients under the direct supervision of doctors or nurses. They help patients with tasks such as bathing, dressing, and eating. They also assist with taking patients' temperature, blood pressure, pulse, and respiration. Additionally, they assist with preparing and administering medications, collecting specimens for lab tests, monitoring patients, and recording treatment.
The Differences Between a PCA and a CNA
Many people think that a Patient Care Assistant or PCA is the same as a Certified Nursing Assistant or CPA. This is not the case however, although both work in the medical industry offering care to patients or their family members.
Some of the main differences between the two are (PCA vs CNA) :
The patient care aide is primarily a caregiver while the certified nursing assistant is more of a lower entry medical worker
The PCA helps with feeding, hygiene and some mobility needs such as pushing a wheelchair, while a CNA is normally expected to help with taking vital signs, dressing wounds and administering medication. Of course, the lines between these activities are sometimes blurred.
Some states do not allow a PCA to administer medication while a CNA can do so
Certification is not necessary for a PCA in most states, while a CNA has to have certification to gain employment
Training Requirements for a Patient Care Assistant
Some states only require that a PCA have a high school education, while other states require that PCAs receive formal training. Most persons in this field will get the majority of their training while working.
Anyone who wants to become a patient care aide needs to have the right training. Taking PCA classes is one way to make yourself more employable. Many medical schools and other institutions such as community colleges and private medical training institutions offer training in this area.
In fact, many people who want to get into this field can and do take formal courses. These PCA training classes normally run from 40 to 75 hours depending on the institution. Courses include:
Basic first aid
CPR
Reading vital signs information such as blood pressure
Caring for the elderly
Grooming and personal hygiene
Death and dying
Giving medication
Cooking special meals for people with special dietary needs
Although it is not a requirement to receive PCA certification, it helps to do so where possible.  The National Association for Home Care & Hospice is the main institution in the USA that offers certification for PCAs.
To gain certification, a minimum of 40 hours and up to 75 hours of training is necessary.  After training, it is necessary to pass an exam and demonstrate competence in performing the functions of a patient care assistant.
Patient Care Assistant Salary
The income for people employed as PCAs varies depending on experience, the state they are employed in and whether they have PCA certification. The average median salary for PCAs in the US according to the U.S. Bureau of Labour Statistics was $19, 910 in 2012. However, at the lower range, the salary is around $16,330 and at the top, it is $27,580.
Of course, rates vary depending on the area in which you work and whether you are working in a private home or institution. It is not impossible for an experienced CPA with lots of training to earn upwards of $40,000 per year.
Many patient care aides work a 40-hour week, although some have to work overtime and on weekends. It is normal for PCAs to be paid for overtime if they work for more than 40 hours in one week.
It is important to check if the state that you live in allows you to offer PCA services to family members. Since Medicaid sometimes pays for this service, it is important to know whether or not you qualify for these payments if you are the PCA for a family member.
They enable those most in need of care to have someone they can depend on to help them. The job prospects for a PCA are good as an aging society means more people will need assistance. Better health care also means that many medical conditions that usually result in early death are now manageable.
Some of these people will still need assistance to enable them to live independently or improve their sense of wellbeing.